This is a small, no-nonsense screen capture utility that specializes in capturing single windows, retaining the alpha-blended drop shadow effect that can be seen in Windows Vista and Windows 7 with the Aero theme.
Behold, a screenshot of AeroCapture, captured by… AeroCapture!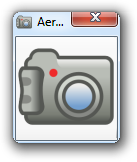 Images are always saved to the "My Pictures" directory, named "AeroCapture*.png" with a running number appended to the file name. If the tool is closed and restarted, the numbering starts at 1 again and all images that already exist will be overwritten one by one.
Clicking on the camera icon captures the entire primary display. Pressing the "Print Screen" key will capture the active window and save it with an alpha channel containing Windows Vista/7's drop shadow effect around the image.
That's all there is to it. Full source code for the utility is included. The archive contains two executables, one for .NET 2.0 and .NET 4.0 (as you can install .NET 4.0 without any of its predecessors, this might be useful for some people)