Decided to buy the game "I am Alive" from Steam today because it was only $15 and the setting sounded interesting: a psychological survival horror adventure taking place after some unnamed apocalypse.
The first thing that greeted me was this: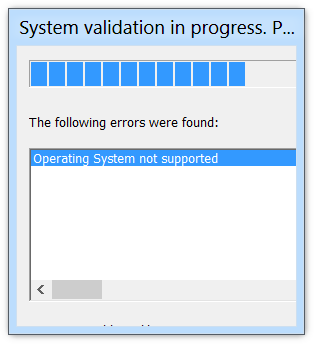 The moment I see such 1990s-typical "System Check" idiocy I'm already appalled by its developers. You can't check anything useful that way and it will only serve to break your game in the future. Like those 1990s games complaining about not enough RAM when they check 16 GB as a 32 bit integer, this one complained about Windows 8 being an unsupported operating system – unthinkable that future OSes might run the game.
Of course, no care has been taken to support anything but 96 DPI, so I don't know if there is an ignore button or just a close button in that dialog. There also seems to be some text on the very bottom which I can't read since the dialog is not resizeable.
Gameplay
The gameplay seemed sort-of interesting for a while, but like any game these days, you're running through cordoned off tubes of scenery so the developers can put scripted scenes in your way. Good to lower production costs, bad for immersion.
Also typical for consoles is the lack of direct control you have over your character. You can only jump when you stand at the edge of something you're supposed to jump onto or off from. You can only slash with your machete if you are in the right position and at the right distance from the enemy so a cool-looking prepared animation can be played.
Even worse than the "press space to play animation" control style is that the mouse look is badly broken. I often find myself unable to change direction because it seems mouse movements get lost whenever the game is loading assets in the background, forcing me to pick up the mouse every so often.
Then there was the novel psychological aspect which might have made the game worthwhile: you start with an empty gun that you can still use to threaten enemies. The game requires you to decide whether it's wise to pull that gun, or if that would start a firefight you can't win. Also, whether it's wise to back away, run away or make a surprise attack using other means. And which enemies to pick first – if you do have a bullet and shoot the guy with a machete, but the second guy has a gun, that's a bad choice obviously.
Sadly, I found the actual gameplay to be more annoying than thrilling, controls doing sometimes this, sometimes that. It's best explained with an example:
(small spoiler)

At the beginning a guy comes at you with a machete and you have to put him in check with your empty gun. You make him back away to the edge of the broken road, then, as instructed by the game, press E to kick him down.

A few steps further, you're put in check yourself by two other guys, one wielding a gun and another wielding a machete. When the gun guy walks up to you, the game tells you to slash his throat by pressing E to trigger a surprise attack. Then you hold the other guy off with your gun, this time the game tells you knock him out. Which key? E of course.

Two more machete-wielding guys come at you. Using your gun, you drive them back to the same edge you kicked the first guy into but – surprise – E won't kick anymore. It also won't make you knock the guy out. Now E starts a struggle machete vs. machete (hey, I've got a gun in my hand!) that gives the other machete guy time to cut you up nicely.

In short: instead of having a bunch of moves available to you, you have to guess how the level designers wanted you to resolve a confrontation and you better guess right.
Combine that with uninterruptible cutscenes and a checkpoint save system and you find yourself doing the same 5 minutes over and over and over.
Conclusion
Uninstalled.
Pro: Nice idea. Does not include Ubisoft launcher, so I'm not forced to read their marketing department's tweets, patch the game or join some community.
Contra: badly ported console game, mouse look broken, tube levels, controls do random things depending on scene, lack of direct control over the character, no immersion, game feels like an interactive movie, forced to repeat scenes endlessly.